---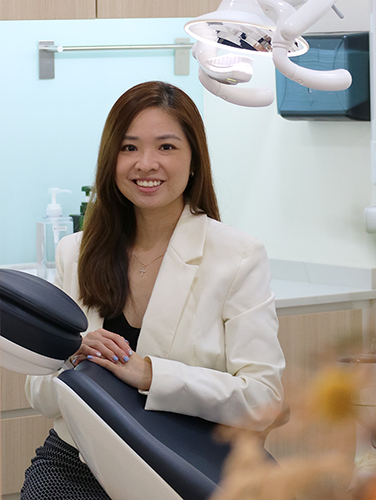 Dr Jamie Wong
---
Dr Jamie Wong is the founder and principal dentist of Trust Dental Surgery. She graduated from University of Queensland (Australia) with a Bachelor of Dental Science with honours. During her undergraduate days, she does volunteering work organised by local charity foundations in Queensland to help bring dental services to refugees and rural residents who have limited dental access.
Upon graduation, Dr Wong returned home to Singapore and worked at various private practices. She provides a wide range of dental treatment and tailor-makes her treatment plan to suit each individual patient. She employs a holistic approach in order for patients to achieve long-lasting beautiful smiles. Her gentle and friendly traits have helped many anxious patients overcome their dental phobia. Her passion in dentistry leads her to strive for the best quality of care for her patients. To achieve that, she frequently attends dental conferences and courses, both locally and overseas, so as to constantly upgrade herself. Wisdom teeth surgeries and implant dentistry are her main interests.
Dr Wong aims to lead this clinic to excellence and provide the utmost care to all our patients. She firmly believes that the dental experience need not be stressful. As such, the clinic is designed for comfort and ease, so everyone can feel at home.
Dr Wong is currently a member of the Singapore Dental Association (SDA) and the College of General Dental Practitioners (CGDP).
Outside the clinic, Dr Wong loves to travel and wishes to explore all parts of the world. She also loves hanging out with her friends and family!
---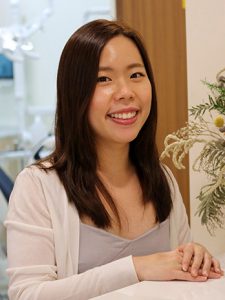 Dr Felicia Foo
---
Dr Felicia Foo graduated from the University of Adelaide (Australia) with a Bachelor of Dental Surgery. During her undergraduate years, she had the opportunity to work in rural community clinics in south Australia where she provided care to many patients with complex dental cases. Upon graduation, she was awarded the Dean's list award from her graduating cohort.
Dr Felicia is a General Dentist with a keen interest in Orthodontics, Geriatric and Paediatric Dentistry. She consciously tries to create an enjoyable and comfortable experience for her patients through her gentle approach. She takes satisfaction in helping patients with dental phobia overcome their anxiety in the chair, especially for children and the elderly.
Dr Felicia believes in putting her patients first and, as such, she always strives to maintain a high standard of care for all her patients. Believing that each patient is unique, she always tries to understand her patients' concerns and demands before coming up with a treatment plan that is tailored to their specific needs. She is very passionate about dentistry and always keeps herself updated on the latest advancements and technology in the field.
During her free time, Dr Felicia likes to knit and cook for her family. She also enjoys playing music and is proficient in more than four types of instruments!
---
Dr Jiya Ng
---
Dr Jiya Ng graduated from the National University of Singapore in 2016 with a Bachelor of Dental Surgery. In her capacity as a Dental Officer she provided primary dental care to patients at Woodlands Polyclinic, before working alongside Pediatric Dentists in the Health Promotion Board treating children. She then worked in the Singapore Armed Forces for two years, performing many wisdom tooth surgeries and root canal treatments to get servicemen ready for overseas deployments. Her extensive exposure and skills garnered in the Public Health Sector have put her in good stead to care for patients of all ages and from all walks of life.
Dr Ng has keen clinical interests in restorative dentistry and minor oral surgery. She regularly attends courses and seminars to upgrade her skills as a clinician and stay at the forefront of clinical dentistry. Her patients like her for her warm demeanor and she strives to make every dental visit an enjoyable one.
Outside of work, Dr Ng is an avid pursuant of an active lifestyle, and is a certified Personal Trainer under the American Council on Exercise. She has a large appetite for both food and life. She enjoys going on jungle treks and is a mum to the best golden retriever in the world!
---