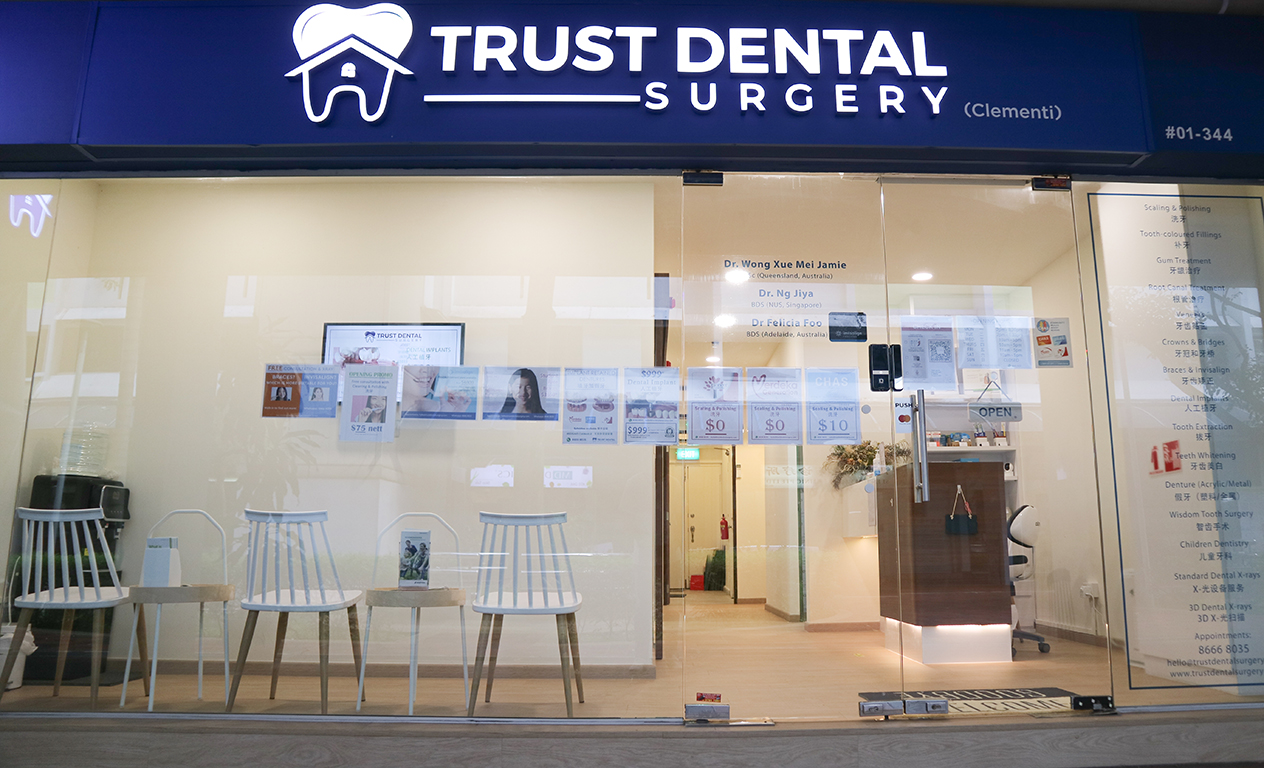 Dental Treatment Cost
The following information is provided as a guide for patients. For specific charges and enquiries, please book a consultation with our dentists.
Single Dental Implant with Crown
$999 + $1250 (medisave)
Braces
from $3650 (student)
Monthly repayment plan
Invisalign Clear Aligners
from $4800
Monthly repayment plan
Tooth coloured fillings
$70 (small) - $150(large)
Wisdom Tooth Extraction
$150 (no surgery required)
Wisdom Tooth Surgery
$1250 (Medisave claimable)
Scaling and Polishing
$0 (PG and MG)
$10(Blue CHAS)
$85-$130(usual rate)
Just went through my first ever wisdom tooth (x 2) removal and i'm still very amazed by the team! Totally lived up to the name because they have my trust. Started with having to ask for an urgent slot-a part of my rotten wisdom tooth dropped out and I felt pain. Fearing infection, I messaged the clinic. Receptionist called me promptly and i was able to get a slot at 5pm with dr ng on the same day even though one of my wisdom tooth is very deep under the gums and near a major jaw nerve. Arrived on time and everything was explained clearly by the receptionist and dr with no hidden charges before op proceed. The Locel anaesthesia given by dr ng made everything almost painless and she was like magic. 1h op done in 40 minutes and I didn't even feel it much while gripping the chair in fear 🤣 after op they did an x ray and payment was made. Had my meds and aftercare clearly explained to me.. Very pleased with the experience.

Tdy, Im really impressed with the service and care at Trust Dental. It my ist time visit with toothache n has been endured the pain as im quite terrified with dentist. The staff managed to calm me and i had to do tooth extraction . It turn out positively n very satisfied with the end result.

Anyone looking for dental service, look for Dr Felicia . She explains things thoroughly and patiently.

Dr Felicia Foo overall performance is outstanding. For a junior dentist, her practice exceeded many aspects compared to peers of the same level. She exude confidence in her procedural skills, clinical judgement and communication with patient. Highly recommend for consultation. No lapse in patient safety. Great asset to the team!!

Look for Dr Jiya. With her since day 1. High commitment and skills.

Have visited Trust Dental Surgery twice, and my experience has been great for both appointments. Dr Wong and Dr Ng are both patient and professional. Did scaling and polishing, as well as filling. I used to fear visiting the dentist, but I have overcame this fear thanks to the fast and painless experience at Trust Dental Surgery. This also comes with a reasonable pricing. Will be recommending my family and friends to visit 👍🏼
Trust Dental Surgery will contact you the next working day to confirm your appointment. Alternatively, whatsapp us 8666 6759 (Jurong) or 8666 8035 (Clementi) to book an appointment.